Retractable Awnings is one of the most precise exterior items that are able to change the entire landscaping view of the house. Retractable means the choice of enjoying the outdoor ambience with the light and shade. This is a good option for the house owner to reduce the day temperature of their sun facing room. Even in the rainy season they are free to enjoy the monsoon weather sitting at their deck or patio. It can be operated manually or with the help of a motor. The motorized awning can be controlled by remote sensor. AwnigSheds, an exclusive awnings manufacturer in Kolkata, provides the best quality retractable awning across India.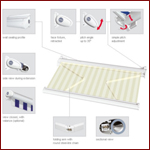 1. Technically strong enough to last long and it looks aesthetically good.
2. Most of the materials are powder coated to maintain a long life.
3. All the materials are corrosion resistive.
4. Front channels are specially designed to prevent it from bending and sagging.
5. Arms are strong enough to maintain the tension.
6. Two to Four arms cable for superior strength.
7. Special customized hardware clamps for mounting the awnings on the wall.
AwningSheds, an exclusive Kolkata based manufacturer, maintains the research and development team to inspect the presence of the entire feature in their product before delivering the same to the customer.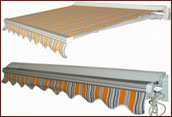 Comfortable width without support compensator is 10 ft.
The width can go up to 30 ft to 40 ft.
Support compensator is required to increase the width.
Standard projection starts from 5 ft. It can go up to 10 ft.
Specially design front channel to prevent bending and sagging.
Specially designed gear box to smooth manual operation.
PVC coated fabric of 5 to 10 years manufacturer's warranty.
Fabric is of International standard fabric having UV protection and Fire Retardant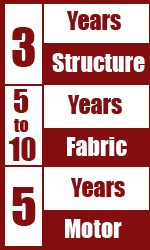 Structure – 3 years limited warranty.
Fabric – 5 to 10 years depending on fabric quality.
Motor – 5 years for Somfy motor.
Need Installation?
For your requirements of Awnings, Canopy, Fabrics Job and many more. We are here for your complete solutions. We provide complete solutions for Awnings and Canopies More than 10 years in sheds manufacturing, fabrication & installation
Talk to Us